Status Update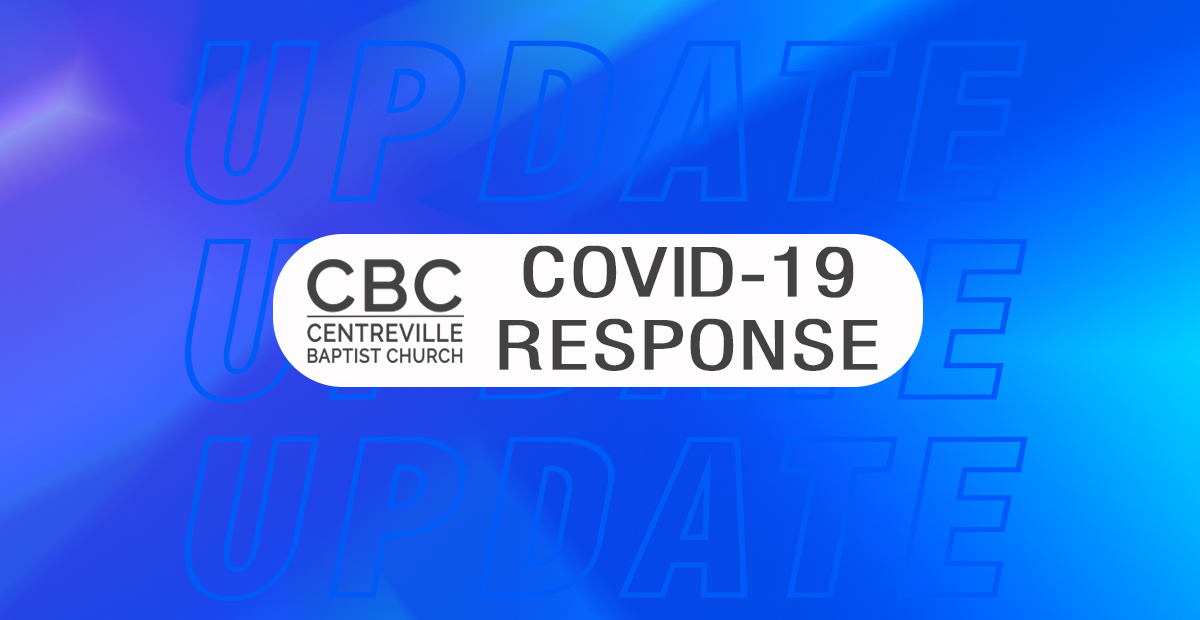 These are uncertain times as we're all walking through uncharted waters. The rapid spread of the COVID-19 virus is upending all of our daily lives. While we're staying at home and practicing social distancing to slow the spread of the virus and give our healthcare workers a fighting chance to stay ahead of things, know that we love you and are praying for you! While our church building is shut down, know that Centreville Baptist Church is very much alive and thriving and looking to God to direct our steps in this season! Check on each other, call one another, pray for one another and encourage one another. We're going to get through this, and we're going to be stronger because of it!
Due to the Virginia Governor's "stay at home" order our services will be online only.
The CBC office and building are closed until further notice.
Join us online on Sundays at 9:15 am or 10:45 am!
We have lots fun with CBC KIDS!
Sundays: Before or after watching the service as a family, visit our YouTube channel, scroll down to the playlist, and click on CBC Kids Rocks!
Wednesdays: Kids can participate in MidWeek too! Access special stories read by our own teachers and Mrs. Pablo, and some will even be acted out by friends you will recognize!

Youtube

Hey Students! Here's what's happening for you during the week:
Motivation Monday: Join us on Mondays at 7:00 pm live.
YouTube
Online Student Groups: If you are interested in joining an online student group, email
Justin (for middle school) or Jason (for high school).
Student Devotionals: Each Friday, CBC Students will be starting a new devotional through YouVersion's Bible app.
To get a notice and link for the upcoming devotional, sign up for the CBC Student email updates and follow us on Facebook and Instagram @cbcva.students.
College Students
Online Bible Study: Join us on Thursdays at 7:30 pm for a group video call. To get connected with CBC College, please email Debra or follow them on Instagram @cbccollegeministry.

For Adults

Midweek Bible Study with Pastor Josh
Join us live on Wednesdays at 6:45 pm as we walk through 1 Peter

Facebook
YouTube
CBC Website

Women's Online Bible Study
Join other CBC women in Finding God Faithful, a Study of the Life of Joseph, by Kelly Minter beginning April 6. This is an 8-week video study with 5 days of homework each week. Watch the videos and do the weekly assignments at home. Then connect with other women through weekly video phone calls and/or our private Facebook group. Detailed instructions will be emailed to you when you register. Hope you can join us!
You can view all of our archived Sunday and Wednesday messages here:
Messages
If you have a prayer request, or a need that we might be able to help you with, please email and someone will reach out to you as soon as possible.

If you missed the opportunity to give your tithes and offerings on Sunday you can give online.
Give
If you prefer to give an offering by check you can mail it to: Centreville Baptist Church 15100 Lee Highway Centreville VA 20120